You are here
Ww2 Usmc Army Ethocel Canteen Gi General Industries 1943 Rare
Posted

Sun, 08/09/2020 - 07:57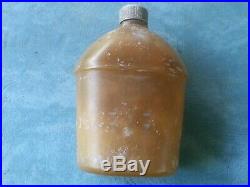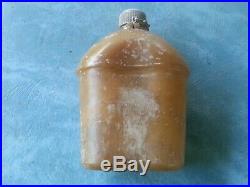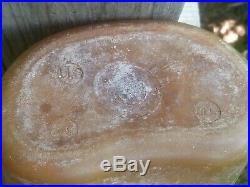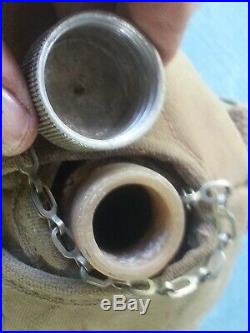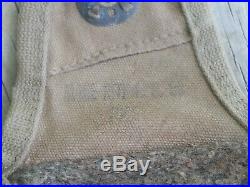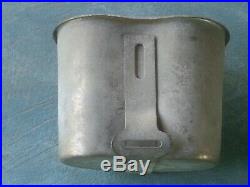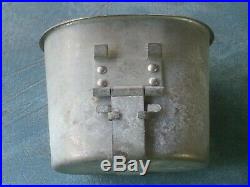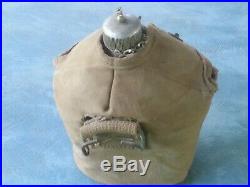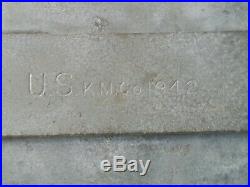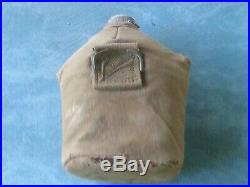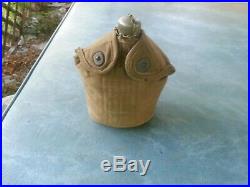 WW2 USMC Army ETHOCEL Canteen GI General Industries 1943 Rare! With the early aluminum cap. The cover has the manufacture on the inside flap, I can't quite make it out. The front is marked US and the bottom has the solders last 4 that it was issued too. Good condition, SHARP contractor markings, and the EARLIEST (1943) of several dates!!
Only one I have ever owned. The Quartermaster Catalog describes this Canteen simply as.
This example has NO cracks, NO seam separation, NO deformation of the threaded neck, NO scrapes from the rivets of a Canteen Cup, and NO I. This Canteen is a handsome, structurally SOLID example of what is now a RARE piece of gear. These SCARCE Canteens were introduced in limited quantity in 1943 by several manufacturers. Legibly molded on the bottom, in raised lettering addition to the U. 1943 is the small distinctive GI all in a san serif font. THIS IS A GOOD EXAMPLE OF AN ETHOCEL CANTEEN! Often described as an "Experimental Canteen" after its initial field trial distribution in 1942, the several contractors went into full-scale production of the model in 1943. The Canteen was made of two injection molded pieces joined horizontally by either a lap or butt-jointed seam. Despite the initial projected estimates, it appears that there was actually very limited production and distribution once Steel and Aluminum became available again sometime in 1943.
Hence by 1944 production dramatically decreased! These have been RARE for some time. These Canteens were provided by the several contractors with both the earlier Flat-top Caps and by mid-1943 the M1942 Cap with the recessed Chain-Post.
Prone to warping, cracking (especially if the contents were allowed to freeze) -- as well as being unsuitable for heating water over a flame -- these were removed from service rather quickly, since a number are found heat-stamped I. " by the Quartermaster Department (denoting, "Inspected, Condemned) meaning NOT that they were unfit, but more often than not'no longer needed,''rendered obsolete' -- most likely by the availability of previously'scarce' aluminum and steel. Ethylcellulose was a material developed by Dow Chemical of Midland, Michigan in the mid-1930s and adopted by the Army's Quartermaster Board as a conservation measure so that Aluminum could be allocated to aircraft production. In addition to molded Canteens manufactured in 1942, 1943, and 1944, ETHOCEL also was used in several other unorthodox applications: Spoons, Angle-Head Flashlights, marked "122" -- with no "TL" prefix, and even a pair Army Service Boots made ENTIRELY of Ethocel!
These Ethocel Canteens were distributed to the Naval Services U. As well as Army personnel in both Europe and the Pacific. These polymers have provided excellent service to industry since their commercial introduction by Dow in the mid-1930s. The prioritization of aluminum to production of other than field mess equipment is well known by collectors. What is generally unknown is that the prioritization order occurred during the "defense emergency" before U. Plastic was the first material the Army QMC examined as a substitute for aluminum in canteens, cups, and meat cans. And other plastic producers, were requested to produce plastics suitable to this purpose.
Many different plastics, and formulations were developed, some of the chemicals used sound toxic. Several formulations of Poly-unsymmetrical di-chlor-ethylene Saran plastic were tried, but failed the tests mainly because of brittleness. Many small lots of canteens, of experimental plastic formulations, were molded by Dow, and tested by the National Bureau of Standards. The use of plastic for canteen cups, and meat cans, was determined unsuitable, and there was no further development.
The QMC turned to the porcelain plating industry for substitute canteen cups, and meat cans, both of which were determined unsuitable and were then tin- or zinc-plated (galvanized). The porcelain plated canteen M1942, tin or galvanized canteen cup M1942, and meat can M1942 were manufactured in large numbers. These items were prohibited from issue to troops going overseas, and removed from issue at the ports of embarkation. Dow eventually developed an acceptable formula of Ethyl Cellulose plastic "Ethocel" that had the undesirable property of transmitting odor and taste to contents. The undesirable taste and odor remained with all formulations, however in field tests it was determined that the taste and odor was not strong enough that soldiers testing the canteens refused to drink the water. In September 1942 Dow molded 10,000 canteens that were sent to various test boards for field trial. The reports of the trial were all favorable that the plastic canteen was a suitable replacement for the canteen M1910. The QMC concluded that plastic was the future for all production of canteens, and tried many different applications of products, including tin-plating, and silver-plating, to eliminate the leeching of taste and odor to the contents. BTW alcohol in a solution of 50% or higher attacked the plastic and destroyed the canteen. Other undesirable features was the plastic would not tolerate heat, and softened when boiling water was introduced to sterilize the canteen.
The Quartermaster Corps Technical Committee in November 1942 recommended the plastic canteen for production classified SUBSTITUE-STANDARD for the canteen M1910. Production of 3,750,000 was authorized for 1942-44. The initial plan was for the manufacture of 85,000 in December 1942, 100,00 in January and February 1943, and 50,000 per month thereafter. This limited production schedule was because the War Production Board in November 1942 released aluminum and stainless steel for the production of canteens, canteen cups, and meat cans.
The known manufacturers of plastic canteens and years of manufacture. Dow Chemical (unmarked) numerous canteens of various plastic formulations, and 10,000 Ethyl Cellulose canteens for field trial - 1942. American Insulator Company (AICO) 1943.
Amos Molded Plastics (AMOS) 1943-44. The item "WW2 USMC Army ETHOCEL Canteen GI General Industries 1943 Rare" is in sale since Tuesday, July 7, 2020. This item is in the category "Collectibles\Militaria\WW II (1939-45)\Original Period Items\United States\Field Gear, Equipment". The seller is "gsdman25" and is located in Sapulpa, Oklahoma.
This item can be shipped to United States, Canada, Bahamas, Uruguay.
Region of Origin: United States
Country/Region of Manufacture: United States
Original/Reproduction: Original
Featured Refinements: WW II USMC Field Gear